Top 10 Tourist Attractions
1/ Luang Prabang
Luang Prabang is One of the most charming cities in south-east Asia, Luang Prabang is the most popular tourist attraction in Laos. Until 1975, when the communist took over the country, it was the royal capital of Laos. The main part of Luang Prabang is located on a peninsula between the Nam Khan and Mekong rivers. A collection of golden-roofed temples, wooden houses and crumbling French provincial buildings fill the main roads. At dawn, monks from the various monasteries walk through the streets collecting alms of rice.
2/ Mekong River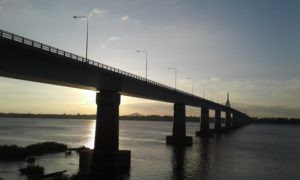 Mekong is Southeast Asia's greatest river with an estimated length of 4,350 km (2,703 miles). Laos actually has the greatest share of the Mekong River. With few good roads and mountainous terrain, the river is Laos' principal transportation. The Upper Mekong in Laos is considered one of the most stunning journeys of the entire river. A great way to enjoy the scenery is a boat trip from Huay Xai at the border with northern Thailand to Luang Prabang.
3/ Plain Of Jars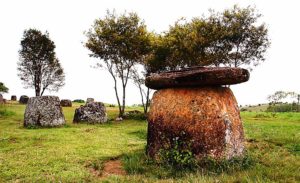 Plain of Jars is a large area extending around the town of Phonsavan, where huge jars of unknown origin are scattered around the landscape. The stone jars appear in clusters, ranging from a single or a few to several hundred jars. The jars vary in height and diameter between 1 and 3 meters and are all hewn out of rock. The stone jars are undecorated with the exception of a single jar that has a human bas-relief carved on the exterior. Research of the Plain of Jars suggests that the stone jars are associated with prehistoric burial practices.
4/ Vang Vieng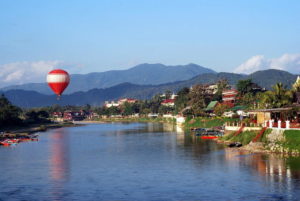 Vang Vieng is a riverside town, located in central Laos about a 4 hour bus ride north of the capital. The main street is full of guest houses, bars, restaurants, internet cafes, tour agencies, and tourists. The area's main attraction is the dramatic karst hill landscape surrounding Vang Vieng. The limestone mountains are popular with rock climbers while the many unexplored tunnels and caverns are a spelunker's heaven. Vang Vieng's most popular activity however is simply floating along the Nam Song river in a inner tube.
5/ Kuangsi Waterfall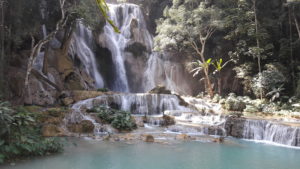 Kuangsi Waterfall is the biggest in the Luang Prabang area with three tiers leading to a 50-metre drop into spectacular azure pools before flowing downstream. … Breathtaking cascades of water make the Kuangsi one of Luang Prabang's most popular tourist attractions.
6/ Wat Xieng Thong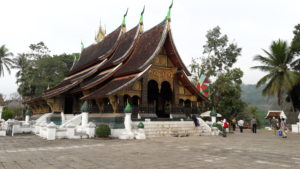 Wat Xieng Thong golden temple location at Mekong and the Nam Khan rivers, Wat Xieng Thong is Luang Prabang's most magnificent temple. It was built in 1560 by King Setthathirath and was under royal patronage during the Kingdom of Laos. Wat Xieng Thong contains a rare reclining Buddha statue that dates from the construction of the temple. In 1931, the image was taken to Paris and displayed at the Paris Exhibition, only to return to Luang Phrabang more than 30 years later.
7/ wat Phou Champasack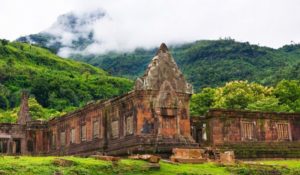 Wat Phu (or Vat Phou) is a ruined Khmer temple complex located at the base of mount Phu Kao, in the Champasak province. The Hindu temple structures date from the 11th to 13th centuries. Wat Phu is small compared with the monumental Angkor-era sites in Cambodia but the tumbledown pavilions, enigmatic crocodile stone and tall trees that shroud much of the site give Wat Phu a mystical atmosphere. The temple is still in use as a Buddhist site today.
8/ Pak Ou Cave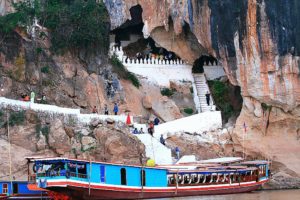 9/ Pa Tha Luang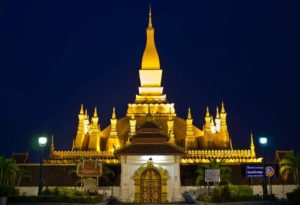 Pha That Luang ("Great Stupa in Lao") is one of the most significant monument in Laos. The stupa has several terraces with each level representing a different stage of Buddhist enlightenment. The lowest level represents the material world; the highest level represents the world of nothingness. Pha That Luang was built in the 16th century on the ruins of an earlier Khmer temple. Pha That Luang was smashed by a Siamese invasion in 1828, then later reconstructed by the French in 1931.
10/ Si Phan Don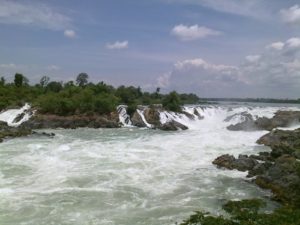 Si Phan Don (meaning 4,000 islands) is a beautiful set of islands, set against a scenic section of the Mekong River in Southern Laos. The Mekong is impassable to river traffic here due to the Khone Falls, a series of rapids that stretch 9.7 km (6.0 miles) of the river's length. The Mekong below the falls has a small population of the highly endangered Irrawaddy Dolphins. The three principal islands that cater to tourists are Don Det, Don Khon and Done Kong. Most of the lodging available on Don Det and Don Khon consists of simple, family run bungalows. Bikes and kayaks can also be rented here.
Average rating:
6 reviews
Feb 5, 2018
6 Days Luang prabang and Phonsavan (Plain of Jar)
My tour guide was doing his best to be very professional. He was a skillful driver who is knowledgeable about this work. I felt safe during my tour and would use this driver again in the future.
All best for you safe trip home
Dec 20, 2017
Luang Prabang Tour
Our guide Tou is a very attentive and friendly guide, he knows his work and arranged for us a perfect full day trip. He knows I have health condition and always took the initiative to ask if I'm still able to walk up to the water fall, or do I prefer to take the ride up and wait for others at the destination. Everything was well planned and we did have a wonderful trip with Tou. Thanks to you again Tou!!!
Thanks for comment
Sep 29, 2017
7 Days tour Laos
Thank to Eric Yang, my first time to Laos he's very good arrange trip for my family.Thanks to Mr Yang excellent english speaking guide for my family, We're just home last week. I will recommend your tour agent to my friend who interesting visiting Laos future.
We're welcome your family to Laos next time